Artists of all sorts
"That which creates itself cannot be destroyed"
We are writers, painters, knitters, quilters, sketchers, photographers, sculptors, potters, cut-and-pasters, story-tellers, dreamers, thinkers, believers, survivors, and everything in between.
We would like to invite anyone interested in pursuing a happier state of mind to join us, bring your art or just yourself, and enjoy a few hours of creating art together.
Vision
The organization facilitates and supports health through the social and educational benefits of a welcoming creative arts space.
Mission 
The Pandora Arts Collective Society is a caring and open community of people whose mission is to join together around the creative arts as a healing process.
About our Name, and Logo:
In our adapted version of the myth, Pandora was tasked with protecting a box filled with blessings and chaos. Ordered not to look inside went against her curious nature, she could not resist a peek. Opening the lid allowed the contents to escape into the community. She was saddened, but she discovered that the blessing of hope had remained inside, helping her to understanding and forgiveness. This story reminds us there is hope in a mental health journey shared together. Hope is the sure belief in the gift of our creative possibilities.
Our Story

Read about the history of the Pandora Arts Collective Society,
by P. Jean Oliver, a founding member.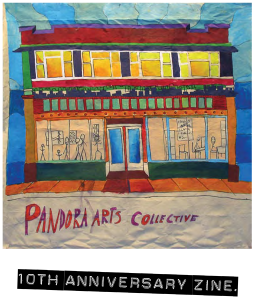 The 10th Anniversary Zine is a compilation of our history, art, insights and vision. It's a tiny, colourful window on our world over this decade-long, incredible journey. The zine idea was generated by, and created under the inspired guidance and artistry of Mike Emme, a long-time supporter, member and Board member of PACS.
← (Click on image to download a PDF) 

     
You may need PDF Reader.