For people using art therapeutically
Our drop-in studio is open to everyone: professionals, students, and beginners. The atmosphere is especially sensitive to people who are using art therapeutically. We do not provide personal or group therapy. Participants are primarily self-directed with their art, though the studio is professionally facilitated, and rich with learning opportunities.
Each studio day sees 7 to 15 people and over the course of a year approximately 50 individuals will use the studio. We have the capacity to add more.
We invite anyone interested in pursuing a happier state of mind to join us. Bring your art or just your self, and enjoy a few hours of creating art together.
Studio fees:
Participant studio fees are on a sliding scale to ensure no one is turned away for financial reasons. The studio fees cover approximately 7-10% of the costs of the Open Studio program.
There is a fee of $10/month for regular use of the Open Studio, or a minimum of $2 per session for occasional drop-in.
Shortly there will be a dedicated button for Join or Renew payments. In the meantime you can drop in on Tuesday or Thursday afternoons to pay.
Hours of operation
Sundays: closed
Mondays: closed
Tuesdays: 12:00 pm – 4:00 pm
Wednesdays: closed
Thursdays: 12:00 pm – 4:00 pm
Fridays: closed
Saturdays: closed
Holidays: closed Christmas Day, Boxing Day, and New Years Day.
Please call to make an appointment for your orientation: 250-920-7227
Location
In the Paul Phillips Hall of the Fernwood Community Association. See thefca.ca for a bio of Paul Phillips.
Bus Routes:
#22 Hillside
Stops in front of the Fernwood Inn.
#22N Downtown
Stops in front of the Belfry.
*Disability/Diversity accessible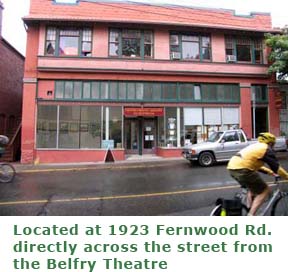 Art materials
Some supplies are available but most artists bring their own. There are easels, brushes, and pallets. We also have a small library of art books for use during studio times.